This weekend brings the Harvest Patch crew much work in preparing the fields and planting veggies…. Joe plated sweet corn and ornamental corn seed last night…. He has the discs all hooked to the tractor to make trenches to hand plant the potatoes today… On Sunday the arrival of 48 flats of vegetables with 48 plants in each flat means we need to get 2,304 little baby plants hand transplanted into the soil….
If you do not have big plans for your Sunday and want to make the short drive out to the farm after 2 pm, we will be there planting, feel free to come get your hands dirty with us!!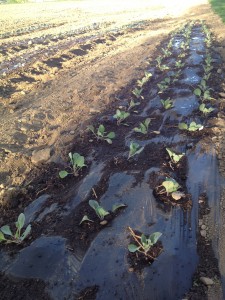 Cabbages already tucked into the soil, growing strong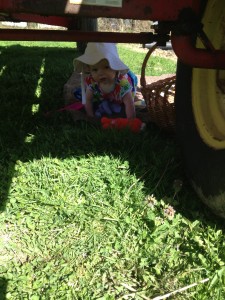 Hey I am under here just playing with my basket of toys while you guys work hard getting dirty!