Posted by
Ashley

| Posted in The Fields | Posted on 22-05-2012
We had a very productive weekend of planting this past weekend… Even with the weather near the 90's in May … Help us for what August might look like …
Saturday we got 200 pounds of seed potatoes in the ground..100 pound of reds.. 50 of whites… fingerlings….  and russets….
Can't wait to get to eat all of these little guys… and potatoes keep so well over the winter… Yumm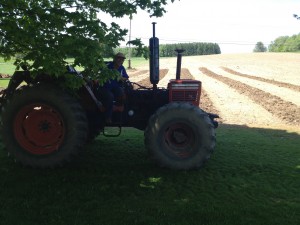 Joe just getting off the tractor look at the beautiful turned over earth in the background..