Posted by
Ashley

| Posted in Recipes | Posted on 31-12-2011
Happy New Year Meal:)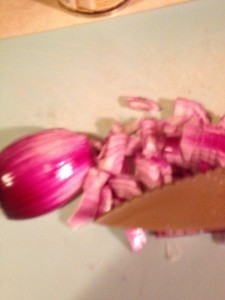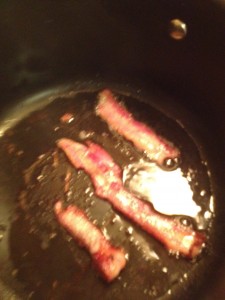 First chop some purple onion……. and put a few strips of fresh bacon into a large stock pot, you are going to use this pot to cook everything else… once the bacon is a bit crispy remove it from the pot and place it on a paper towel….. Then add in the onion and a bit of garlic chopped….
Cook the oinions until they are soft, while they are cooking put about 2 cups of half and half or 1% milk on to warm up…. then once the onions are cooked down toss them in 1/4 cup of flour to coat them, and add in the warm milk….
Next you can get crazy with the cheese, for this batch I used one block of Irish cheddar, 1 1/4 cups of paramasan , and 1 cup of cheddar… I have also used blue cheese , goat cheese, what ever flavor cheese you like….
Then in the food processor I put some of Wegmans Garlic Tuscany Bread to create crumbs, in a small pot of the stove I cooked down about 2 table spoons of butter and then put the bread crumbs to make them toasty  ..
Do not forget you need to put a pot of boiling water to make the noodles… I used small shell and medium shell about one and a half boxes of the mixed noodles… Once they are all boiled to softness, add them to the pot of cheese mixture….
Mix it all up well and then pour it into a dish to bake in the oven…. and then let it cook until you get a nice crisp on top…
And that is it for the mac and cheese….
Our New Year's Tradition is that we always have lobster… well today I went to Top's where I always get a live lobster to make at home, and they were only 5.99 a pound… however there was not a lobster to be found anywhere in the place… not even ones they had already steamed… so then I went over to Wegmans , and as I walked in three employees were taking down the huge live lobster sign and the tank was empty…. so I thought I had to give up on the lobster tradition, however there in the case right next to some shrimp were three steamed lobsters calling my name…
so I snatched them up and then just re-flash boiled them at home…  with a splash on lemon and a cup of butter… love love love lobster…
Happy New Year… Welcome 2012….